Week 1: French Bread
Posted by Chas Grundy on January 2, 2010 under Loaves, Recipes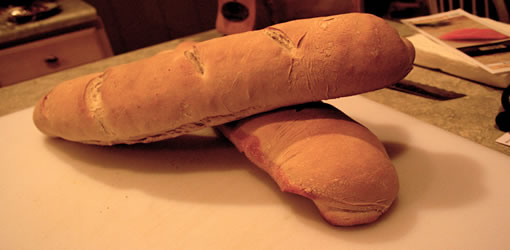 For our first week, I started with some simple French bread. We had just finished up a previous batch, and we were thinking about doing some cheese fondue so we needed more bread. This should do the trick.
This recipe comes out unlike most French breads I'm used to. French bread tends to be fairly soft and absorbent. This bread, however, has a harder crust and denser crumb. It's more like a rustic loaf than a refined French bread. Oh well, it's still quite delicious.
Simple French Bread
Makes two loaves.
Ingredients
2 1/2 cups of hot water (105-115˚ F)
2 packages of active dry yeast (4 2/3 teaspoons)
1 tablespoon butter, melted
1 tablespoon salt
6-7 cups flour
cornmeal
egg wash (1 egg white + 1 tablespoon of water)
Directions
Mix the water and yeast. I add a pinch of sugar to the water first and let it proof for 10-15 minutes to get the yeast going, as well as making sure the yeast isn't dead. Next, add the butter, salt, and about 2 cups of flour. Mix and add flour, one cup at a time, until the dough holds together and is only slightly sticky. (I prefer my stand mixer and dough hook, but doing this by hand is fine.) Turn this over into a greased bowl and cover with a tea towel. Allow it to rise for one hour (until doubled in size).
Punch the dough down and divide in two. With each section, turn onto a lightly floured surface and roll the dough into a 12×16 inch rectangle. Roll tightly from the long end and fold the ends under. Place both loaves on a greased pan sprinkled with cornmeal. Cover and allow to rise for another hour.
Preheat the oven to 450˚ F. Make three or four diagonal slices on the top of each loaf and bake for 20-25 minutes. Brush the loaves wish the egg wash and bake for another five minutes. Cool completely on racks before cutting.
Notes
The crust is firmer and the crumb is denser with this recipe than the usual French bread. We like this kind of bread to soak up stew, dip in cheese fondue, or slathering with garlic butter and making garlic bread.
This Week's Photos